Want to check out my teach­ing sched­ule? Go here.
~~~~
Yoga Bio
My yoga jour­ney began when I was in col­lege when I took a Vinyasa class and fell in love with the flow­ing move­ments and the way the pos­tures not only stretched my phys­i­cal body, but also opened some­thing in me deep inside. Due to the rur­al loca­tion of my col­lege, I did not have access to a yoga stu­dio. But I did find Yoga Today, a sub­scrip­tion based video stream­ing ser­vice, and I learned a lot from their excel­lent teach­ers. I still con­sid­er Sarah Kline of Yoga Today to be one of my first teach­ers and was thrilled to take class from her in per­son while I was at the USA Yoga Nation­al Cham­pi­onships in Jack­son, Wyoming in 2016.
While in grad­u­ate school, I became a group fit­ness instruc­tor at the Uni­ver­si­ty of Wis­con­sin-Madi­son where I taught group strength and yoga/Pilates class­es. I did­n't nec­es­sar­i­ly con­sid­er myself a true yoga teacher at that time since I had­n't been through a tra­di­tion­al teacher train­ing, but it was a great oppor­tu­ni­ty to pre­pare for what was to come.
In 2010, I moved to Stock­ton, Cal­i­for­nia to become a music librar­i­an at the Uni­ver­si­ty of the Pacif­ic. I joined a stu­dio, Bikram Yoga Stock­ton (now True You Hot Yoga). I instant­ly got hooked on Bikram Yoga and com­plete­ly ded­i­cat­ed myself to the intense prac­tice, which is also around the same time that I learned that I would need a new heart valve. The surgery was incred­i­bly stress­ful, but yoga was my sav­ing grace. It kept me calm, strong, and healthy and I believe I recov­ered rel­a­tive­ly quick­ly due to my con­sis­tent prac­tice (not to men­tion the excel­lent care of my won­der­ful hus­band).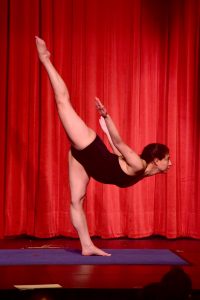 After recov­er­ing from surgery, I set my sights on a new goal — yoga com­pe­ti­tion. For me, the yoga com­pe­ti­tion has been an incred­i­ble oppor­tu­ni­ty to fur­ther devel­op my prac­tice. I have par­tic­i­pat­ed in region­al and nation­al yoga com­pe­ti­tions since 2013. In 2018, I earned 2nd place in Adult Women for the state of Cal­i­for­nia.
I com­plet­ed my 200-hour Yoga Alliance cer­tifi­cate on the Bikram Method from my men­tor and yoga mama Hele­na Mon­i­ca, own­er of True You Hot Yoga. In 2015 I attend­ed Paul and Suzee Gril­ley's 100-hour Yin Yoga Teacher Train­ing, Lev­el 1. That same year I attend­ed a Vinyasa train­ing with Bel and Emi­ly Car­pen­ter.
In 2015, I start­ed work­ing with Nicole Wilk­er­son at New Leaf Ayurve­da. Under her guid­ance, I made some real­ly big changes to my diet and lifestyle based on my dosha — Pitta/Vata. This includ­ed reduc­ing the amount of time in the hot room (not easy!) and also incor­po­rat­ing more med­i­ta­tion, yin yoga, and restora­tive yoga into my reg­u­lar rou­tine. The results have me feel­ing stronger than I ever have before.
I cur­rent­ly teach Bikram, Advanced 84, Vinyasa, Yin Yoga, Yoga Nidra, and com­pe­ti­tion train­ing. I'm avail­able for work­shops, coach­ing, and pri­vate lessons.